5 Very Cool & Unique Bars Across America
Safe House
Located in Milwaukee, Wisconsin
Facebook/SafeHouse
Okay, so to get into this bar you'll need to know the password. Or you can do a dance to amuse the doorman to let you in. It better be creative though because they see a lot of dances. So Safe House is called Safe House because the theme of the bar is everything espionage and spy-related. When you enter it looks like you walked into a 1950's black and white Film Noir movie. Its suppose to be a little cheesy and campy, they embrace their gimmick and don't take themselves too seriously. First drink is $7, refills are $2.50, and you get to take the glass home. That's pretty awesome
Williams & Graham
Located in Chicago, Illinois
Facebook/Williams & Graham
When looking at Williams & Graham from the street it appears to be just a cocktail-themed bookstore. But it's actually a front for a Speakeasy, where instead of reading about cocktails you get to drink them. If you're not familiar with the term "Speakeasy" it's a secret bar people would go to during America's Prohibition (alcohol was illegal) to get smashed. It was called a Speakeasy because the people in them had to speak easy so they wouldn't get caught. Williams & Graham takes the art of crafting cocktails extremely seriously. They have won multiple awards and change out their drink menu frequently so the customers always have something new to try.
PDT
Located in Manhattan, New York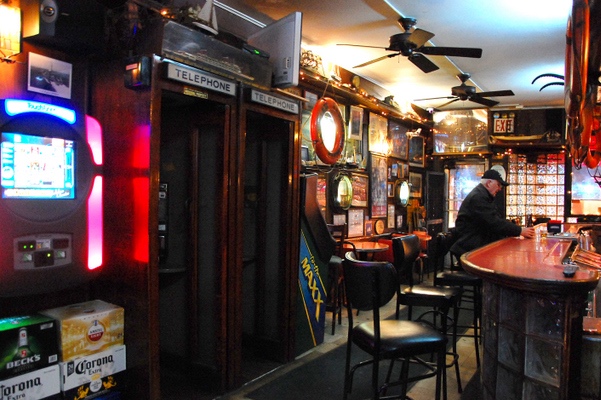 This bar is located inside a hot dog restaurant called Crif Dogs. PDT stands for Please Don't Tell and to get in you'll need to get a reservation. When you do have a reservation you'll need to stepinside the phone booth entrance to the bar, press 1 and let the hostess you're there to party. Sounds like an actual Speakeasy in the m modern day, minus the banned alcohol part, it's just fun to do. The drinks there are expensive because you know it's New York City where everything is expensive. The bar tenders do not cheat you on alcohol content because their cocktails are always strong. Their food is very impressive for "bar food" because they source their ingredients from Crif Dogs.
Beatnik Bob's
Located in St. Louis, Missouri
Beatnik Bob's is how it sounds. It's a Beatnik themed bar with tons of memorabilia from that era. The "Beatniks" were basically the subculture of cool kids of the 50's-60's, before the hippies. They were "non-conformists", that wore black turtleneck sweaters and sunglasses indoors. But what's so unique about Beatnik Bob's isn't its decor (though, that is cool too), it's where it is located. In downtown St. Louis there is this huge building/structure called City Museum. It's a museum that showcases very large repurposed architectural and industrial objects. Basically, it's a big jungle gym of things people can explore. There's old airplanes, adult size hamster balls, a three story slide, an aquarium, a skatepark and even secret passageways. City Museum also houses the world's largest number 2 pencil, measuring over 76 feet with a 250 pound rubber eraser. It sounds like such cool place to go to and Beatnik Bob's is there if you get thirsty (not for water but they do have that too). Also, did I mention Beatnik Bob's has the "world's largest underwear" which is a pair of men's briefs that is 7 feet high by 7 feet wide.
Sister Louisa's Church of the Living Room & Ping Pong Emporium
Located in Atlanta, Georgia
Facebook/Sister Louisa's Church of the Living Room & Ping Pong Emporium
With such a long name, this bar has a nickname; "Church". The owner is an artist that filled his bar with everything religious, specifically Christian. There is a photo booth that looks like a confessional. The place is filled with pictures and statues of Jesus, Mary and certain Saints. There's even an organ for live karaoke. If you're thinking of going back to church you should.