Top 10 Tallest Water Slides in the World
10. Le Geant
108.3 feet / 33 meters
Wave Island water park
Monteux, France
Le Geant water slide at the Wave Island water park located in Monteux, France is the 10th tallest water slide in the world. It is 108.3 feet off the ground and shoots it's sliders at speeds up to 49 mph. The water park use to be called Splashworld but was reopened with new rides and attractions so they renamed it to Wave Island in 2018.
9. Verti-GO
108.3 feet / 33 meters
Aqualandia
Benidorm, Alicante, Spain
Opened in August 2013, the Verti-GO water slide located in Aqualandia in Benidorm Spain, stands just under 110 feet from the ground. It plunges its riders to speeds of more than 50mph using a trap door release in a capsule.
8. Summit Plummet
120 feet tall / 36.6 meters
Walt Disney World; Blizzard Beach
Orlando, Florida, USA
The Summit Plummet water slide is the premier attraction at Walt Disney World's Blizzard Beach located in Orlando Florida. This free-fall body slide is 120 feet tall making it the 8th tallest on the planet. Riders can catch speeds up to 55 miles per hour. There is a minimum height requirement of 48 inches.
7. Deep Water Dive
121 feet tall / 36.9 meters
Kentucky Kingdom and Hurricane Bay
Luisville, Kentucky, USA
At a height of 121 feet, Deep Water Dive ranks as the world's 6th tallest water slide. It is the premiere attraction of Kentucky Kingdom's water park, the slide requires its victims to stand on a trapdoor platform that collapses after a three-second countdown. Riders are then blasted down the 377 foot long slide at a 70-degree angle. Kentucky Kingdom reopened in 2014 after a major renovation and is named one of the best amusement parks in the United States.
6. Ko'okiri Body Plunge
125 feet tall / 38.1 meters
Volcano Bay Water Park
Universal Orlando Resort, Florida, USA
Modeled on the volcano god called Vol, the Ko'okiri Body Plunge is exactly what its title says. Riders stand on drop doors that open and plunge them down a 70-degree fall, nearly straight down a breathtaking 125 feet drop.
5. Kala and Ta Nui
125 feet tall / 38.1 meters
Volcano Bay Water Park
Universal Orlando Resort, Florida, USA
Tied with the Ko'okiri Body Plunge are the water slides Kala and Ta Nui. They are also located at the Universal Orlando Resort in the centerpiece mountain at Volcano Bay. On these slides, which also include trap doors and launch capsules, the riders plunge down the clear, intertwining tubes, taking a lot of sharp turns through many twists.
(Video of all 3 slides at Volcano Bay, POV footage begins on 2:50)
4. Meteor
131 feet / 40 meters
Wet'n Wild San Paulo
San Paulo, Brasil
The Meteor slide is the tallest attraction at the Wet'n Wild Sao Paulo. At 131 feet up it is the 4th tallest water slide in the world. It opened in October of 2018 as the tallest drop-capsule slide in the world. It has a 70 degree slope that will send its riders up to speeds of 60 mph.
3. Insano
134 feet / 41 meters
Beach Park
Aquiraz, Brazil
This water slide definitely lives up to its name, Insano, the Spanish word for insane. Located in the largest water park in all of Latin America, Insano stands just over 134 feet tall. The riders do not use a raft or mat, they slide on their backs down an exhilarating 14 story drop reaching a max speed of up to 65 mph. Beach Park is located on Porto das Dunas beach, 10 miles south of Fortaleza in northeastern Brazil.
2. Captain Spacemaker
137 feet / 42 meters
Aqualandia
Venice, Italy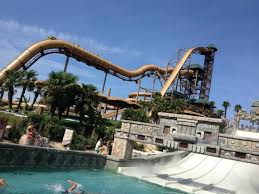 At 137 feet from the ground, Captain Spacemaker is by far the tallest water slide in Europe. Also known as just "Spacemaker" , this behemoth of a water slide sends three or four riders on rafts down a 60-degree slope while reaching a top speed of 62 mph. Aqualandia is about 30 miles northwest of Venice, it has been named Italy's best water park nine times and was even named the best water park in Europe once.
1 Kilimanjaro
164 feet / 49 meters
Aldeia das Aguas Park Resort
Barra do Pirai, Brazil
Being first opened in 2002, Kilimanjaro now stands as the world's tallest water slide. There was once a water slide taller called Verruckt (German for "insane") that was 168 feet tall, located in Kansas USA. Unfortunately, a ten year old boy died going down the waterslide so it was shut down in 2017. The Killimanjaro is located in the Aldeia das Aguas Park Resort, an enormous resort and water park, which is northwest of Rio de Janeiro. Kilimanjaro has a crazy drop height of 164 feet and remains the record holder for the highest drop on a body slide. The slide is named after Africa's tallest mountain. Sliders can reach an estimated speed of 62 mph off of a 60-degree slope.