Most Ballin' Hotel Suites Around the World
The Penthouse
Faena Hotel
Miami Beach
$39,500 per night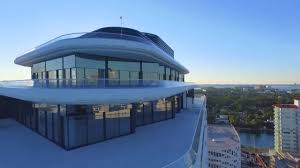 Okay, so the first ridiculously expensive hotel suite we are going to fantasize ourselves in, is the Penthouse at the Faena Hotel in Miami Beach. This suite has two levels and is designed for a "residential living experience" so the people staying can feel more like they're at home than at a hotel. It probably wouldn't come as a shock, but people who can afford a suite like this, probably own a home (or homes) that look like this too. The suite has five bedrooms and the whole place is furnished to the nines with custom furnishings by a guy named Frank Pollaro, who I'm guessing is a big deal in that world. The color scheme he chose for the suite was ivory (fancy word for a type of white), beige, with gold and black accents that "highlight the vibrant colors of the Atlantic." The penthouse was designed by film director Baz Luhrmann and his wife, set designer Catherine Martin. That's pretty cool I guess and of course the whole suite is surrounded by floor-to-ceiling windows so you can have the best ocean view in all of Miami. You're definitely paying for it, shelling out just under 40k a night. But it's just money right?
Royal Suite
Plaza Hotel
New York, NY
$40,000 per night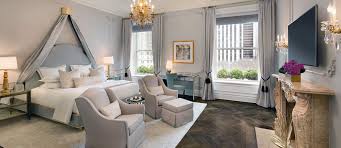 You can vacation just like Kevin McCallister from the movie Home Alone 2 when you check into the Royal Suite at the Plaza Hotel in New York. Actually, a lot of you reading this might not know what I'm talking about since the film came out 25 plus years ago in 1992. Damn, time goes by fast. This insane hotel suite has all the top on the line amenities and fixtures. It has an exquisite living room with a grand piano, a dining room that sits 12, a library, for those who like to read on vacation, and a fitness room, for those who like to work out on vacation. The best part is the master bedroom over looks the iconic Fifth Avenue in New York City. It's an incredible one of a kind view you'll get no where else. Also, the bathrooms have 24 karat gold Sherle Wagner fixtures. Which is a nice touch, especially considering the price of you staying there. Personally I think the couch should be plated in gold.
The Penthouse Suite
Hotel Cala di Volpe
Porte Cervo, Italy
$41,177 per night
In the absolutely beautiful resort town, Porte Cervo, in Sardinia, Italy, it is known for it's high end shops and hotels. The best and most expensive is the Penthouse Suite at Hotel Cala di Volpe. It is a multilevel penthouse that is at the very top of the Hotel and overlooks the gorgeous Costa Smeralda, which is a stretch of coastline known for its turquoise waters. The suite is 2,690 square feet with a fitness area, full wine cellar (this is Italy) and a Solarium, which I googled and found out its a room that's completely enclosed in glass, giving the visitor an outdoor atmosphere while still being inside, you're welcome. The three bedrooms all have king size luxury beds and insane bathrooms. All the bedroom bathrooms have a bathtub jacuzzi, a ginormous walk in shower, dual vanities made of Sardinian Marble (sounds fancy) and all the wall tiles are hand painted. It always good to know what you're paying for.
The Grand Riad
The Royal Mansour
Marrakech, Morocco
$43,480 per night
The Royal Mansour is called the Royal Mansour because if you stay there you'll be living and treated like Moroccan royalty. The hotel has 53 individual luxurious suites and The Grand Riad is the grandest of them all. Go figure. This ginormous suite has its own gym, bar, spa and even it's own movie theater. The Royal Mansour has the second best views of the beautiful city, second to the the famed Koutoubia Mosque tower.
The Hilltop Villa
Laucala Island, Fiji
$45,000 per night
The Hilltop Villa is perfect for big families or large groups. The more the merrier because you get your own freaking private island! There's the main house, two guest houses, and an awesome pool surrounded by lush gardens. You get your very own private chauffeur, cook and nanny, when you want to ditch the kids. And of course, you're surrounded by the ocean so you can beach it up all day or if boats are more your thing, the island has a marina with 14 different boats to choose from. You get a lot for your money on this one. Granted, it's still an insane amount of money.
Ty Warner Penthouse
Four Seasons
New York, NY
$50,000
When you stay at the TY Warner Penthouse at the Four Seasons in New York City be prepared to be the most bad ass mutha-f***ker in the whole city. Okay, maybe the room doesn't officially come with that title but it should. This penthouse suite has a jaw dropping 360 degree view of the Big Apple. It has four glass balconies on all it's sides, so you can take your pick looking at Uptown, Downtown or even Midtown. All the towns you want. The penthouse has one bedroom with a private spa and an oversized rock crystal master bathroom. The bathroom sinks are made of freaking rock crystals. That's pretty cool. Plus you get your own chauffeur and your own Rolls Royce to drive around town, turning heads. Unfortunately you don't get to keep the car when you leave. I bet the kind of people who would and could drop 50k a night on a hotel are not too impressed with a Rolls Royce though. Regardless, it's an amazing hotel suite.
The Penthouse Suite
Hotel Martinez
Cannes, France
$53,200 per night
The Penthouse Suite on top Hotel Martinez's highest floor is a celebrity hot spot when they come visit the Cannes Film Festival every year. Can you imagine the legendary parties thrown here? It features a king bed bedroom, living & dining room and a beautiful wood paneled terrace overlooking the ocean. Also, to top it all off, the hotel has its own private beach at your service.
Mark Penthouse Suite
The Mark Hotel
New York, NY
$75,000 per night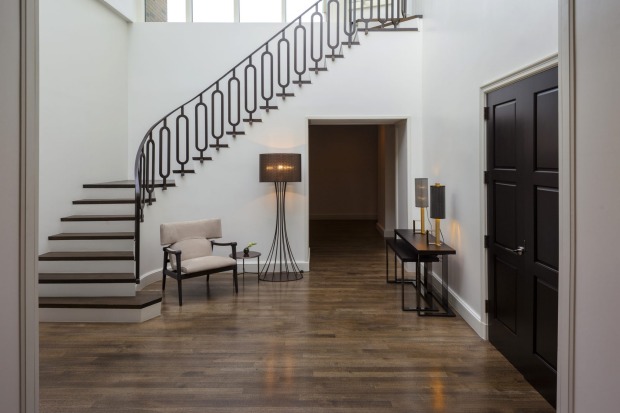 The Mark Penthouse suite is the largest penthouse suite in the states. It has an outdoor 2500 square foot rooftop terrace that overlooks Central Park. It features 5 bedrooms with 2 king size, 2 queen size and 1 full size mattress. For the bedrooms it has 5.5 bathrooms, 2 powder rooms, 2 wet bars and a grand living room with 26 foot high ceilings. If you want to be officially the biggest baller in New York it'll cost you 75K per night, but think of the epic party you could throw, especially with that roof top terrace.
Royal Penthouse Suite
Hotel President Wilson
Geneva, Switzerland
$80,000 per night
If you need or want an entire floor of a hotel to yourself then the Royal Penthouse Suite at the Hotel President Wilson in Geneva, Switzerland, is what you want. It's priced at 80k a night and everything inside is at tippy top of the luxury scale. It is protected by the best security system money can buy. Don't worry all the windows are bulletproof and there's even a panic button. There's also billiards, a grand piano, a rare book collection and a jacuzzi overlooking Lake Geneva. What more can you want?
Empathy Suite
The Palms
Las Vegas, NV
$100,000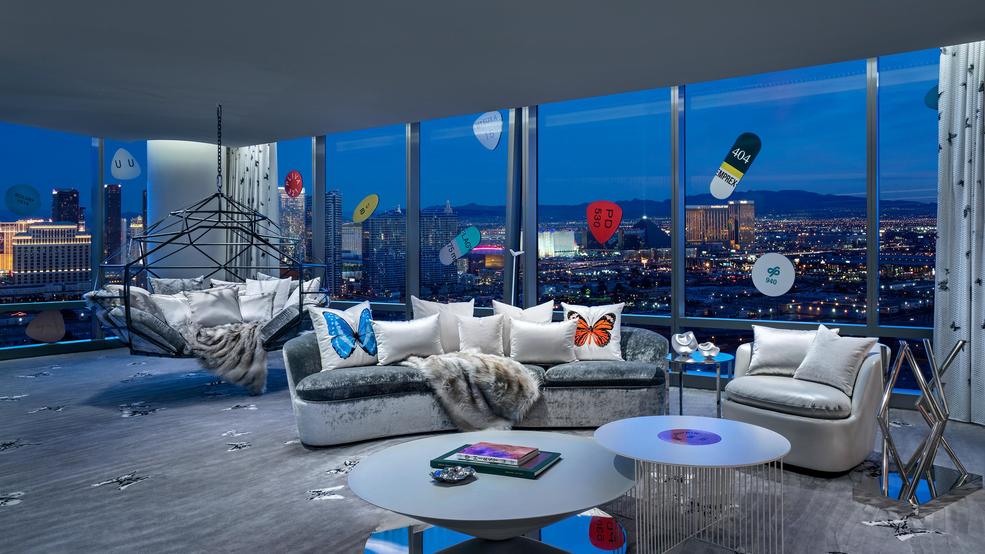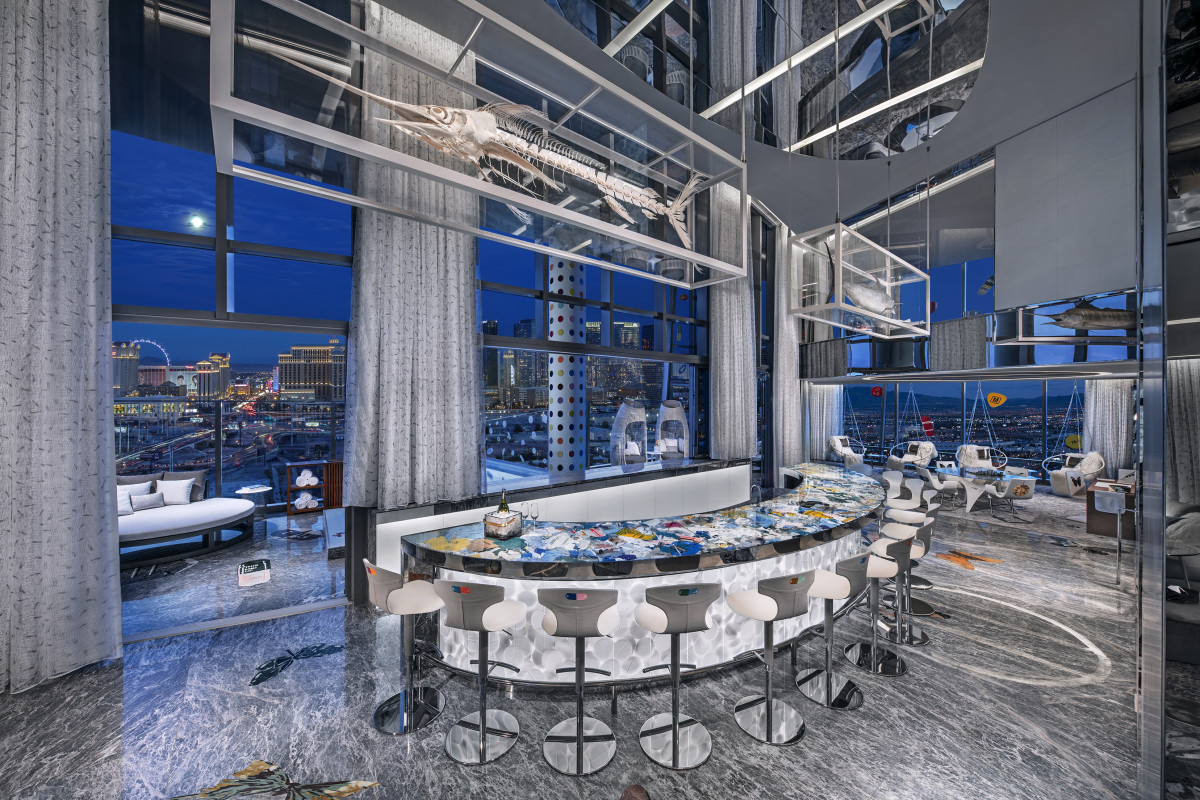 Not only is the Empathy Suite the world's most expensive hotel suite but it's also a full on authentic art exhibit. This massive 9,000 square foot Vegas paradise features the unique artwork from the famous UK artist Damien Hirst. Who is also one of the most prestigious names in art in the world today. Six large scale art pieces were commissioned just for the suite, so it goes without saying that this hotel suite is definitely one of a kind. There are two master bedrooms, a 13 seat bar, lounge areas, 2.5 bathrooms, massage rooms, a salt relaxation room and a cantilevered jacuzzi that hangs over the Las Vegas strip. There's easily enough space to have 50 of your friends over. The Empathy suite goes for 100k a night. It's also only reserved for people who spend millions at the Palm's casino on the first floor. So if you wanna stay here, get to gambling. If you do stay, you get a 10 grand credit card to use at the resort and a 24hr butler service to clean up after you.