12 Rappers With The Most Expensive Bling
Waka Flocka Flame
Fozzie Bear Chain
$120,000
Waka Flocka Flame's real name is Juaquin James Malphurs. He sky rocketed into rap stardom in 2009 when he had 2 singles, "No Hands" and "Hard in da Paint" make it on the Top 20 of the Billboard Hot 100 Chart. Malphurs got his stage name from the catch phrase "waka waka" said by Fozzie Bear, who is one of Jim Henson's Muppet creations (along with Kermit the Frog and Miss Piggy). That's why he replicated Fozzie Bear in all gold and diamonds and put him on a chain to wear. It cost Waka a cool $120,000 but it looks sick so it was worth it.
Jay Z
11 lb Cuban Gold Chain
$200,000
Jay Z first wore his massive 11 pound Cuban gold chain at the So So Def 20th anniversary concert in 2013. This bling is crazy big, it says a lot while still being simple and classy. The piece was made by Rafaello & Co who claims to only make jewelry fit for kings. I guess that's why Jay-Z is sporting this beast which cost him $200,000.
Lil Uzi Vert
Marilyn Manson Chain
$220,000
Symere Woods is the 24 year old rapper known as Lil Uzi Vert from Philadelphia. He has been making big moves in the hip hop industry since 2015. Woods has said that his biggest influence is is the musical artist Marilyn Manson, the notorious dark lord of Goth-rock. That's why Woods spent $220,000 on a chain in honor of him. It shows Marilyn Manson's head wearing Mickey Mouse ears, like he did when he would perform. It was designed by Ben Baller and has over 60,000 diamonds on it. Woods has gotten into some controversy in the past over being accused by other rappers of being a Satanist himself. There's a rumor that even his name Lil Uzi Vert is a play on the word "Lucifer."
Kanye West
Horus Chain
$300,000
Whether you think Kanye is a genius or not, there's no doubt that the man is very talented. His career can speak for itself. Now, there's no denying that sometimes Kanye can have sometimes have "out there" ideas. Like perhaps when he decided to have a near life-sized head of the Egyptian god Horus on a chain to rock out with on stage. The Horus chain was designed by Jacob the Jeweler and had a price tag of 300k. That sh** KRAY for real. I can't even guess how much that thing weighs.
T-Pain
Big Ass Chain
$410,000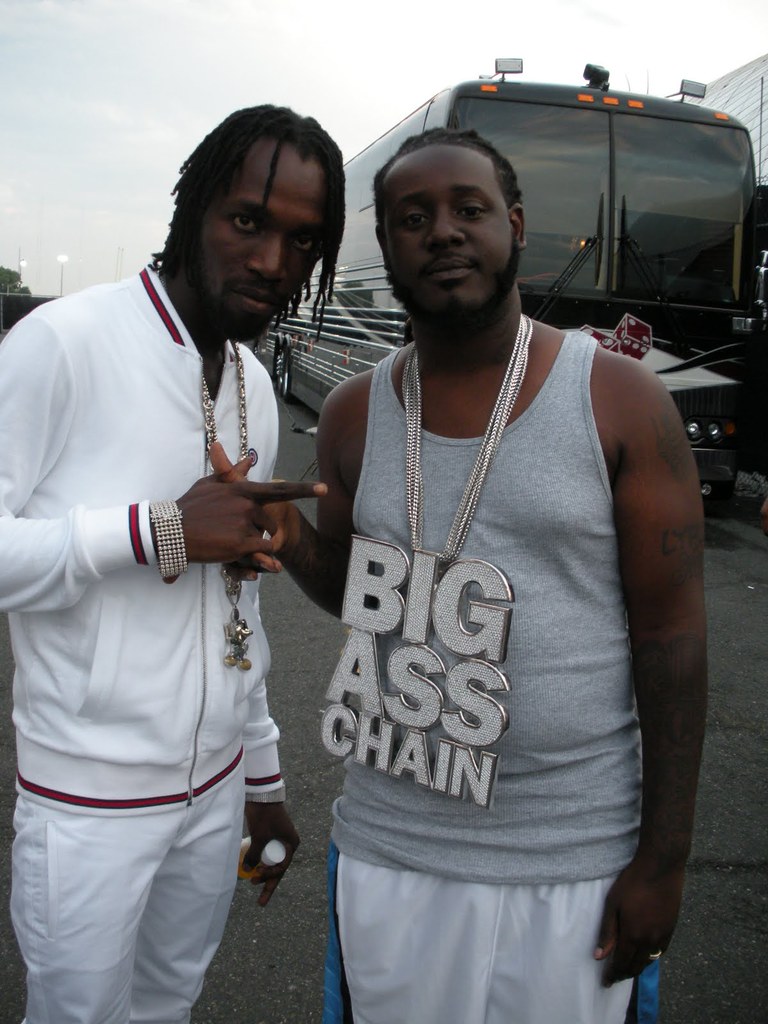 Let's move on to another ridiculous piece of bling and talk about T-Pain's Big Ass Chain. It literally says "Big Ass Chain" in a ginormous diamond encrusted piece that weighs over 10 pounds. T-Pain did very well in the mid 2000's so he deserves to treat himself. The chain has nearly 200 karats of diamonds and cost $410,000. T-Pain is known for having a collection of absurd jewelry but this one takes the cake.
Takeoff
Solar System Chain
$500,000
Takeoff from the hip-hop group Migos got the whole damn solar system around his neck. I mean his name is Takeoff so it does make sense. The chain cost him half a million dollars. It shows the space shuttle with the YRN insignia blasting off towards the sun with the rest of the planets on the chain as well. Everything is just absolutely covered in diamonds, it's insane.
NSFW: Video has swearing in it
Soulja Boy
The World Is Yours Chain
$500,000
Soulja Boy was just 17 when his first single "Crank That" made him a giant star literally over night. So it make sense he would sport a chain with the saying "The World is Yours" to keep the inspiration going. The chain is encrusted with white diamonds and is worth $500,000. Soulja has said he has spent over 3 million on jewelry alone. I believe it.
Lil Jon
Crunk Ain't Dead Chain
$500,000
Lil Jon is an icon. He brought Crunk out to the mainstream with his legendary loud raspy voice that was on dozens of hits throughout the 2000's. Lil Jon first wore his "Crunk Ain't Dead" in 2007 and it earned him a spot in the Guinness Book of World Records for largest diamond pendant at the time. It weighs over 5 pounds and stands at 8 inches tall with a gold rope chain to support it. It set him back half a million dollars but you can tell in every picture he loves that chain and we do too.
Mike Jones
Ice Age Chain
$1,000,000
Mike Jones owns his own music label called Ice Age Entertainment. What's a better way to celebrate than making a huge 100 plus karat diamond covered chain out of the logo? Well Mike Jones couldn't think of anything so he did it. Unfortunately it got stolen from him by a good friend. Luckily Jones had insurance. That's smart to get when you drop 1 million dollars on some bling.
Pharrell
N.E.R.D. Chain
$1,000,000
The singer Pharrell spent one million bucks on a chain with his band's N.E.R.D. logo on it, showing little caricatures of him and his two band mates smothered in colored diamonds. Jacob the Jeweler made the piece and it's one of the most expensive in the world.
Rick Ross
Chain of Himself
$1.5 M
The rapper Rick Ross is known for living an extravagant lifestyle. He must own almost his own weight in custom jewelry. His flagship piece is a chain of his own face. Lot's of rappers get lots of chains of lots of things but Ross changed the game when he put himself in his bling. He did it right too, spending 1.5 million to ensure it was the best.
Gucci Mane
Hublot Watch & Audemars Piguet Royal Oak Baguette Watch
$1 million each
Gucci Mane undoubtedly loves to splurge his riches and it seems like the thing he likes to buy the most is jewelry. Gucci owns some of the iciest bling in the game from his rings to his watches and he's constantly upgrading his collection. Taking into consideration how much he works, he deserves to buy himself some gifts every once and awhile. Most recently, the rapper dropped another million dollars on a new Hublot watch. I guess he wanted one more watch that was worth a million bucks so he could match it on his other wrist. His wife gifted him with a 1 million dollar 35 karat diamond ring to go along with some of his others. Gucci then bought his wife a 60 karat Dimond ring to say thanks. Gucci Mane is the self proclaimed king of jewelry and he definitely lives up to his name.