The World's Scariest Roller Coasters
Full Throttle
Six Flags Magic Mountain
Valencia, California
Featured at Six Flags Magic Mountain in Valencia, California, Full Throttle has the world's tallest vertical loop. At its highest point it stands at 160 feet. It also launches the car from the starting station at 66 miles per hour, which I guess is why they call it full throttle.
Wicked Twister
Cedar Point
Sandusky, Ohio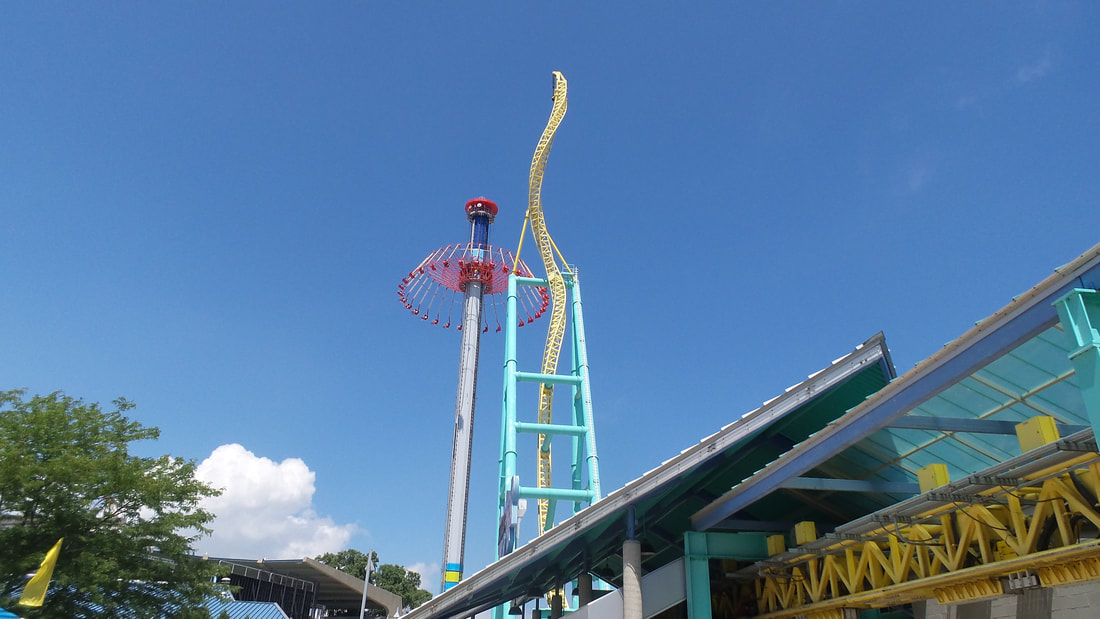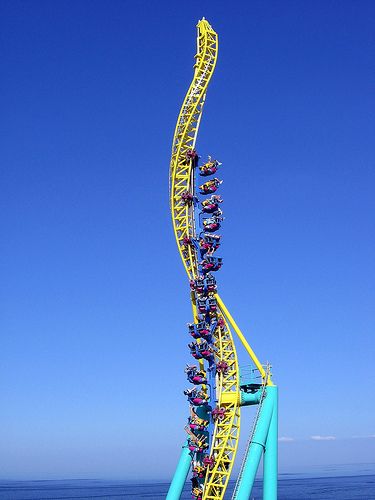 Wicked Twister is located at Cedar Point in Sandusky, Ohio. It is the world's largest suspended impulse coaster and has been scaring people since 2003. Just looking at it can make someone dizzy. It's 215 feet tall with a drop of 206 feet. The whole ride is just 40 seconds but don't let that fool you, it has been named one of the scariest roller coasters for a reason.
Fahrenheit
Hersheypark
Hershey, Pennsylvania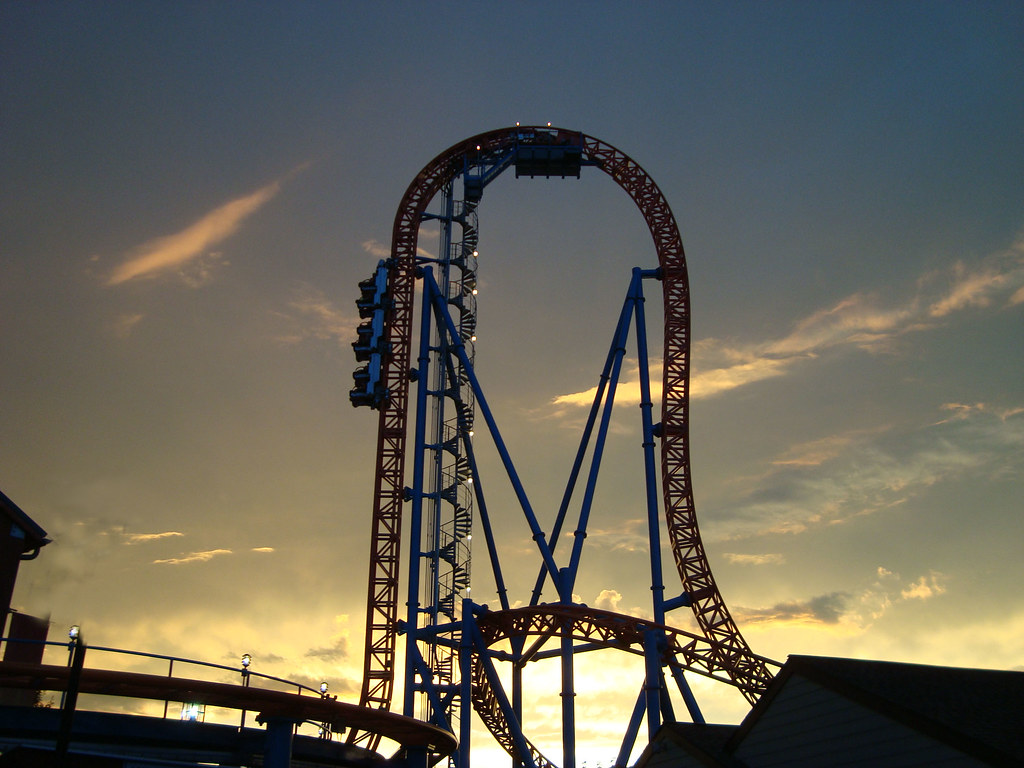 When Fahrenheit was opened in 2008, it set the record for steepest roller coaster in the world at the time. Just because it has been beaten out on steepest roller coaster recently does not mean it's a walk in the park. The ride starts out with a calm climb of 121 feet and then lets its riders down an insane 97 degree drop into many corkscrews and loops. There's a total of 6 inversions on Fahrenheit, its top speed is 58 mph and it has a G-force of 5.0.
Banshee
Kings Island
Mason, Ohio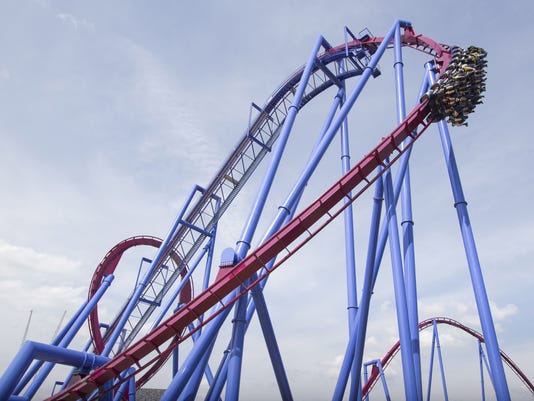 Banshee is the world's longest inverted roller coaster with 4,124 feet of track and a top speed of 69 miles per hour. The drop is 151 feet down. It has a total of 7 inversions along with twists, rolls and loops. Going through these loops at such a high speed gives riders a zero gravity experience.
Valravn
Cedar Point
Sandusky, Ohio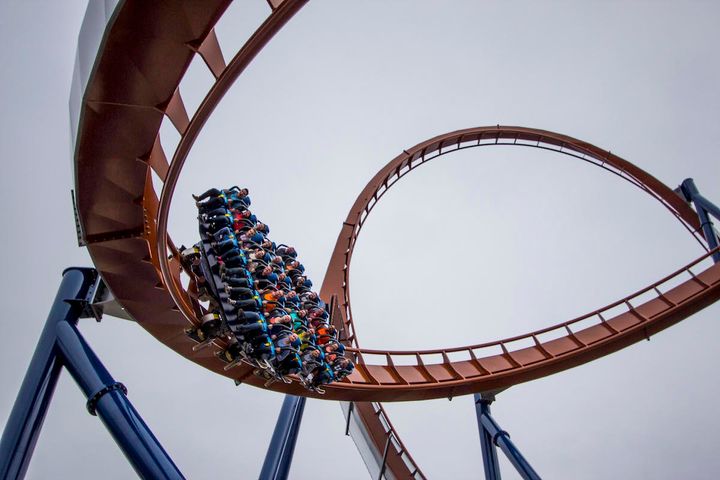 Being a relatively new roller coaster, opened in May 2016, Valravn is world's tallest and longest dive coaster. The train starts by climbing to 223 feet, it pauses for 4 seconds and then drops its riders 214 feet at a 90-degree angle, reaching 75 miles per hour. Its riders go through through a series of loops before climbing again for a second drop, this time at 131 feet.
X2
Six Flags Magic Mountain
Valencia, California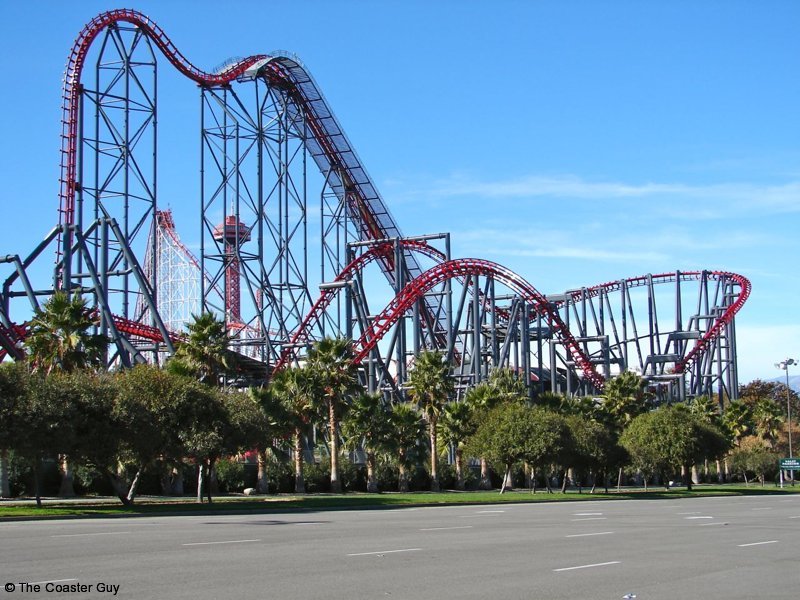 X2 was boasted as the world's first 4th dimension roller coaster. The seats are positioned on either side of the track, each with their own separate ability to rotate around 360 degrees. With all this motion riders easily get lost of where they are in space. It also has a sound system and a pair of flame throwers. It has a max G-force of 4.0, 2 inversions and a top speed of 76 miles per hour.
The Smiler
Alton Towers
Staffordshire, United Kingdom
The Smiler holds the world record for having the most inversions on a roller coaster. Once riders go over the first hill the train goes through 6 inversions with upside down loops. Then, the train rises up again, goes down another drop and then 7 more inversions. Total the ride lasts 2:45. That's quite a long time getting the crap scared out of you.
Kingda Ka
Six Flags Great Adventure
Jackson, New Jersey
It might not look like much, but this ride is bonkers. As soon as the ride starts the train is blasted at 128 miles per hour down the track. Then it's rocketed up a 90 degree angle up some more track and over a hump that turns into the highest roller coaster drop in the world at 418 feet. With 3,118 feet of total track the whole experience is only 28 seconds but trust us that's all you really need on this ride.
Gravity Max
Lihpao Land in Houli District
Taichung, Taiwan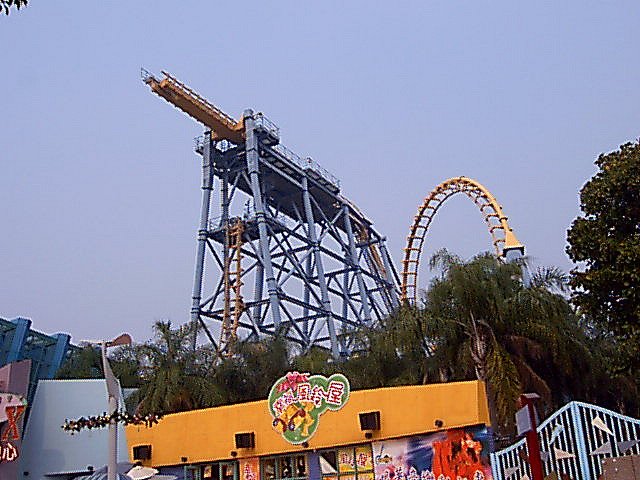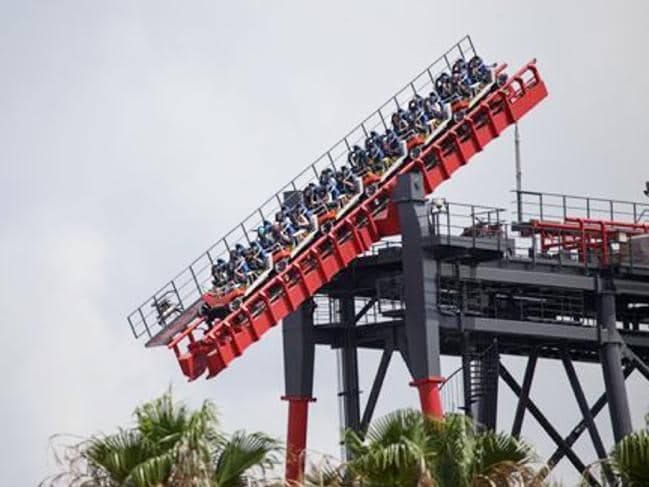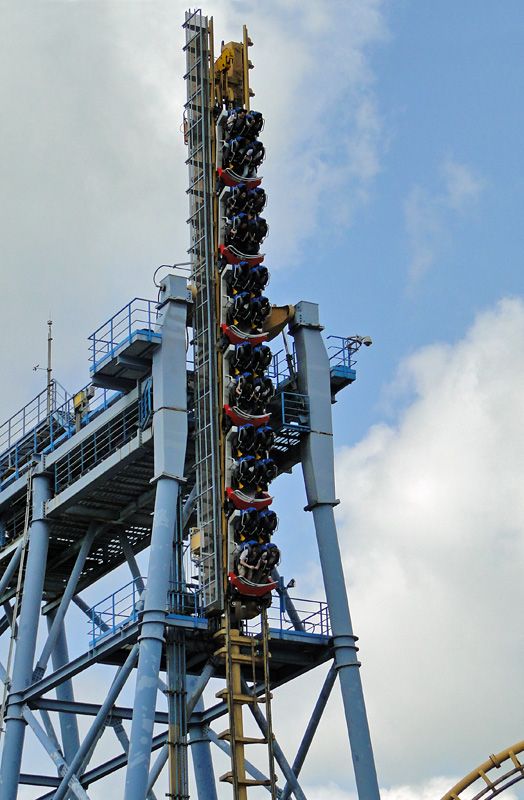 Opened in 2002, Gravity Max is the first roller coaster ever to have a tilt section. Advertised as the "Cliffhanger", the Gravity Max's train is pulled up a lift hill to a horizontal platform. The track, with the train on it, then tilts down until it is completely vertical (90 degrees). It pauses for dramatic effect then drops down into a dark tunnel, turns 180 degrees and emerges to enter the vertical loop. The full ride lasts 2:25.
NSFW: swearing in video
Takabisha
Fujii-Q Highland
Fujiyoshida, Yamanashi, Japan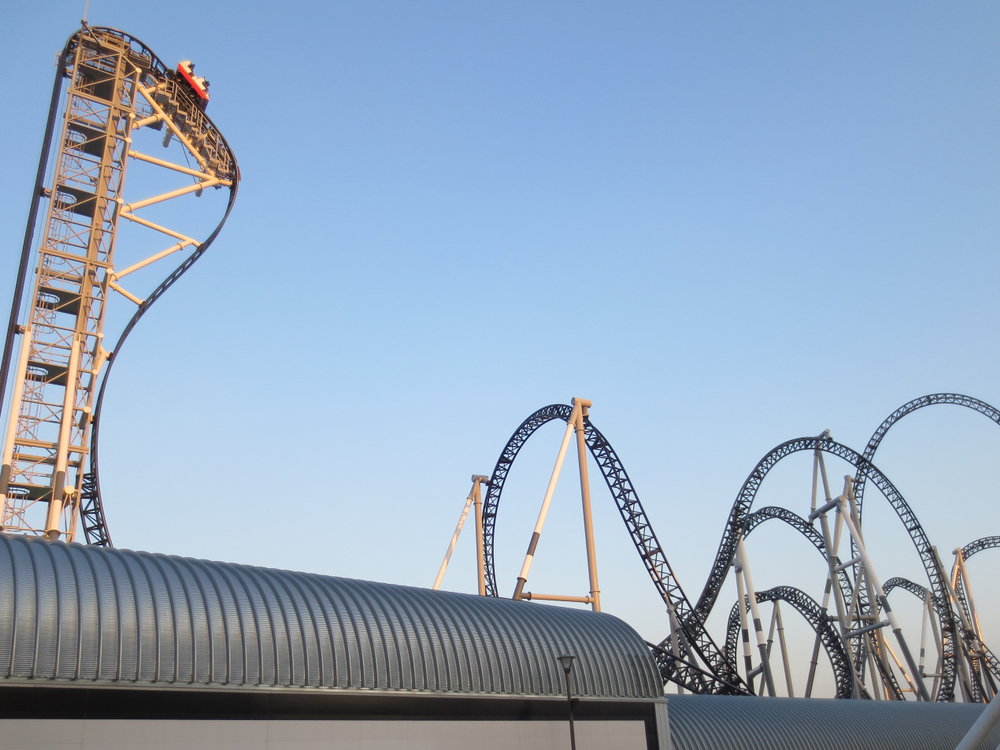 Takabisha is the steepest roller coaster in the world. It starts by having its riders in complete darkness, where they go down a drop and then an inversion. Then they are propelled upwards through a tunnel at 60 miles per hour outside into a huge loop. Followed by more loops and corkscrews, the train then slowly climbs a 90 degree angle 141 feet into the air. Then the riders are dropped at a 121 degree angle. The ride lasts 2:40 and has a top speed of 62 miles per hour.