Insanely Expensive Desserts Only Rich People Can Eat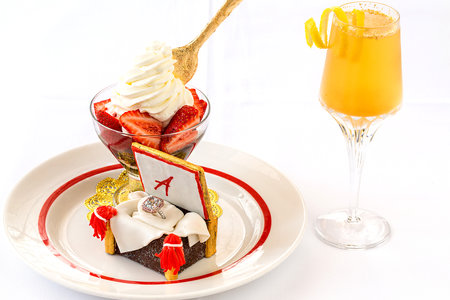 The Golden Phoenix Cupcake
$1,000
photo credit: USA Today
Have you ever wondered what a golden cupcake tasted like? Well, for 1,000 bucks and a plane ticket to Dubai, you can. Located in the Dubai Mall, a little bakery named Bloomsburys makes the world famous Golden Phoenix Cupcake. You guessed it, it cost $1,000. It's made up of strawberries dipped in gold, Italian chocolate and sprinkled with gold dust. Actually, when it's all said and done the whole thing is dusted in gold. To top that off, they give you a solid gold spoon to eat the cupcake with. Unfortunately, you don't get to keep the gold spoon, but you do get to take pride in the fact you just ate a good amount of 23 karat gold.
Krispy Kreme's Luxe Doughnut
$1,685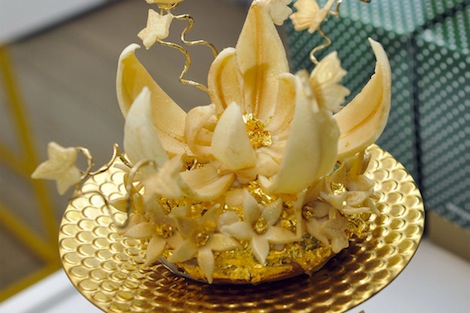 photo credit: First We Feast
The most expensive donut in the world is Krispy Kreme's Luxe Doughnut. They spell "doughnut" the fancy way because it's only found at Selfridges department store in the UK. And for almost 1700 dollars, it's a pretty fancy doughnut. The donut is filled with Dom Perignon champagne jelly, it's covered in 24 karat gold flakes and is decorated with gold plated white chocolate lotus. Also, they sprinkle edible diamonds on it because why not? They're not actual diamonds though, they're made of sugar but don't tell your friends that if you get this donut. Let them think you ate diamonds. Also, some of the money spent on this donut is given to the Children's Trust which is a charity that helps children with brain injuries. It also comes with a cocktail consisting of Dom Perignon 2002, Courvoisier Cognac, raspberry and passionfruit syrup.
Frrrozen Haute Chocolate Ice Cream Sundae
$25,000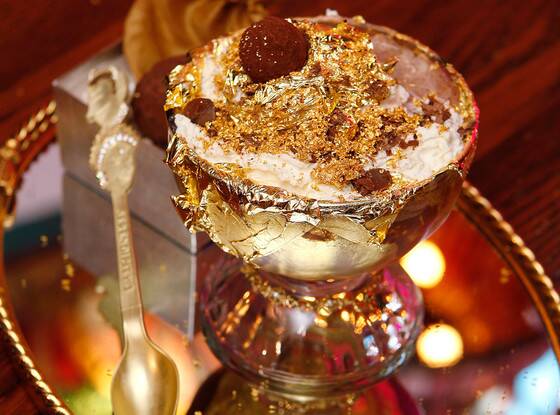 photo credit: E! News
The Frrrozen Haute Chocolate Ice Cream Sundae is created by the New York Eatery, Serendipity 3. "Eatery" is just rich people talk for restaurant and 25 bands for an ice cream sundae is definitely rich. This expensive dish has five grams of infused edible 23 karat gold, a blend of 28 rare cocoas from all of the world and is served in a golden goblet studded in diamonds. Serendipity collaborated with the jeweler, Euphoria New York to make this dessert something special. The whole thing is topped with whipped cream and more gold. On the side is a serving of La Madeline au Truffle from Knipschildt Chocolatier which costs 2,600 a pound. To eat the sundae, they give you a gold spoon with white and chocolate colored diamonds. At the base of the goblet is an 18 karat gold bracelet. Do you understand now why this thing is $25,000?
The Lindeth Howe Country House Hotel Chocolate Pudding
$34,000
If you been fed up with how cheap chocolate pudding is at your local grocery store then you might be interested in the Lindeth Howe Country House Hotel Chocolate Pudding. It's the most expensive chocolate pudding in the world at a whopping 34 grand. In case you're wondering, that's around the same value of a slightly used 2019 Mercedes-Benz A 220. All of the deluxe chocolate puddings are made by the world renown chef Marc Guibert at the Lindeth Howe Country House in England. The pudding consists of 4 different kinds of top tier Belgium chocolate, caviar, and of course, it's all wrapped in gold. The pudding is in a large egg replicated to look like a Fabrege Egg. Fabrege Eggs were insanely expensive jewel encrusted eggs made by the world renown 19th century Russian jeweler, Peter Carl Fabrege. He made them for the Russian Tsars (Kings) to give as Easter gifts for their loved ones. Only 46 of these valuable eggs survived after the revolution. Also, with the dessert you get a bottle of Chateau d'Yquem, a very fine French wine which on its own is $700. Plus, they throw in a 2 karat diamond, no big deal. Not an edible sugar diamond, a real diamond which you can decide to eat or not. When you order this pudding it takes the Chef three weeks to buy all the ingredients he needs before he can serve it to you.
The Absurdity Sundae
$60,000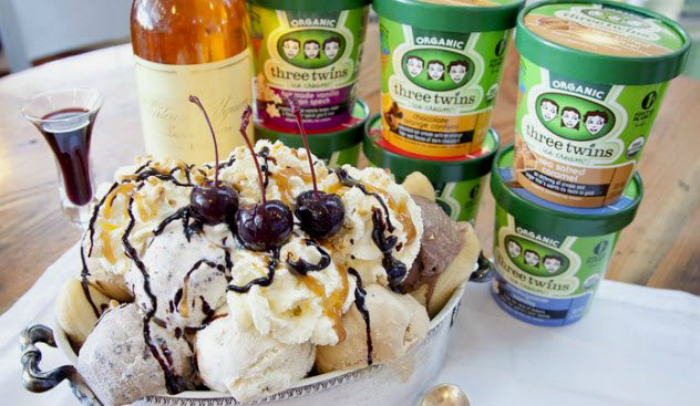 photo credit: FinancesOnline
The minds behind Three Twins Ice Cream offer a one of a kind ice cream experience. For just $60,000 they will fly you out first class to Tanzania and put you up in a 5 star hotel. There, the owner of Three Twins Ice Cream will hand make you an ice cream sundae using the glacier ice from the summit of Mt. Kilimanjaro, which is the highest peak in all of Africa. Part of the 60k you pay will go towards fighting climate change because the mountain's glaciers are predicted to disappear in the next 10-15 years. Maybe they shouldn't use the glaciers for their ice cream if they're disappearing, but what do I know, I'm not a "scientist." The syrups on the sundae are made from expensive rare wines and they give you a special antique ice cream spoon that was made in the 1850's. If you want a friend or loved one to come with you to also enjoy a sundae it's only 25k more. What a steal! And if you think it's not worth it then you don't love the environment.
Diamond Fruitcake
$1.72 million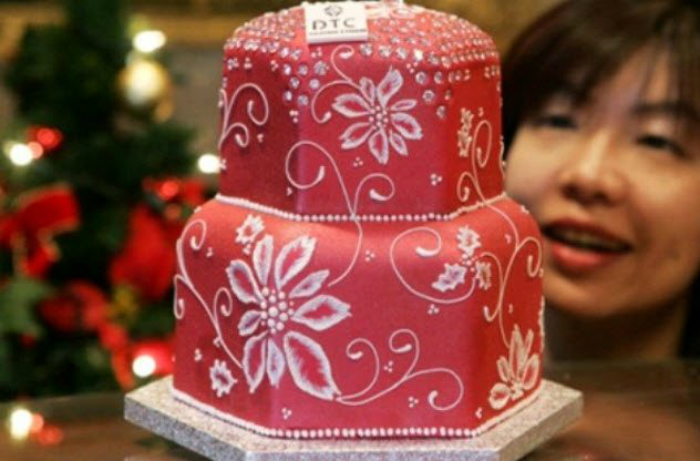 photo credit: FinancesOnline
Most people love the holiday season. You get time off of work, you get to hang out with your family, friends and loved ones. And you can always get a great deal on a fruitcake at the store. I personally wouldn't pay over $7.99 for a fruit cake but there are some people who would. Apparently, some people would drop $1.72 million on a fruitcake. They must really like fruitcake. This fruitcake I speak of is at the Takashimaya Department Store in Tokyo. It's so expensive because the cake is studded with 223 diamonds equaling 170 karats. So, I guess you're just buying 223 diamonds that comes with a fruitcake for free. It took 6 months to design it and 1 month to make. Diamonds take a long time to bake all the way. Though the chef doesn't advise eating the diamonds, but that guy needs to stop telling people what to do and mind his own business. Also, if you're crazy enough to even want to buy this thing, you can't. It was commissioned as a marketing gimmick for the store. It's essientially a $1.7 million decoration. What in goodness gracious are they selling in this store where they can afford that?
Strawberries Arnaud
$9.85 million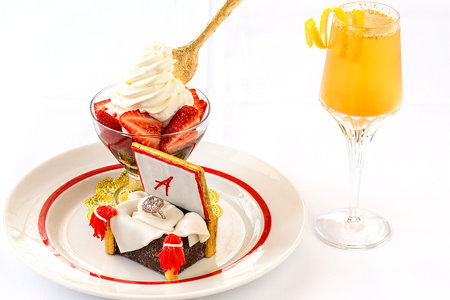 photo credit: Bravo TV
You could purchase a lot of things if you had $9.8 million you were willing to spend. You could buy by a private jet, a yacht, a supercar… heck why not get all of those and be the biggest baller for all to see. Or… you could put everyone to shame and buy yourself a dessert for that money. Make sure to take a picture and put it on instagram though. The most expensive dessert in the world is called Strawberries Arnaud and it is only available at Arnaud's restaurant in New Orleans. Surprisingly, you won't find a strawberry dessert for $9.8 million anywhere else in the world. Crazy, right? Arnaud's Restaurant is famous for serving delicious locally grown strawberries. The Strawberries Arnaud is made of strawberries, very expensive champagnes and liquors for added flavor, a single scoop of vanilla ice cream, whipped cream and 24 karat gold flakes on top. You're probably thinking "how the heck is that worth $9.8 million dollars? Is the ice cream made from the breast milk of Juno?, the patron goddess of the roman Empire and eternal youthfulness? No, it's that much because it comes with a huge 10 karat royal blue diamond engagement ring from MS Rau Antiques French Quarter. Are you starting to see a pattern here? People put jewels in desserts then mark up the price a ton so rich people can brag about eating crazy expensive desserts. Pretty genius idea.